Blackpool Dance Festival 2022
We are so proud of the hard work and dedication from this years dancers. They performed without fault and made us very proud. Our dance was based on the story of 'The Pirates Who Lived Next Door'. Look on our Facebook page for the actual performance!
Ribby Hall in Wrea Green very kindly donated a cheque for £500 this week to help with the increased demands on school budgets. This is such a kind gesture when school funds are really being stretched. Robbie the reindeer brought the cheque for the children and shook hands with them all. Thankyou Ribby Hall!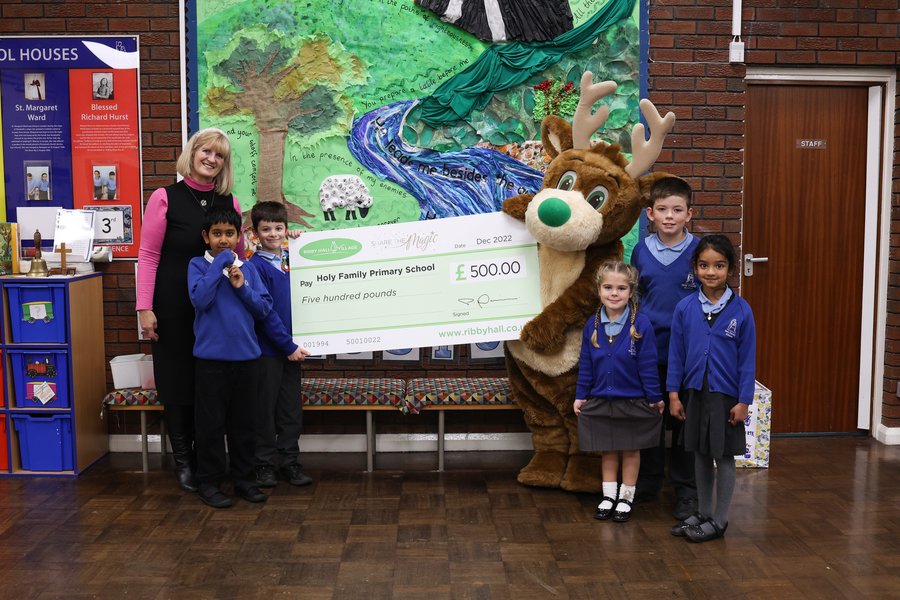 In school today we had a service led by Mrs Holden to remember those who died for us. Each class presented what they had been doing in class for Remembrance Day.
Anti–Bullying
Today we have a visit from Nori, who came to share with us the secret behind bullies. KS2 learnt how their responses can change the outcome.
This half term's Progress and Endeavour Awards - Well done everyone!
Y5/6 Performance 2022
Y5/6 have been working so hard on their performance 'What's the crime Mr Wolf'. We have some real budding actors in Owls and Kingfisher class! Mr Hardman took some photos on our opening night, so please feel free to take a look! Images are FREE for parents to download but they are for personal use only.
https://memoriesmadephotography.pixieset.com/holyfamily-year6production/
Sports Day 2022
What a fantastic day we all had for our Sports day - one where family could all join us too! Well done to winning team Excellence and a big thankyou to all the staff for organising such a fantastic event. Mr Hardman managed to take some great shots, so please feel free to take a look! Images are FREE for parents to download but they are for personal use only.
https://memoriesmadephotography.pixieset.com/holyfamilysportsday2022/
Good evening! Apologies for the late update - we have had such a busy day! Everyone slept well last night, and then started off this morning with a breakfast of cereal, bacon, sausage, hash browns, beans and toast. We had a busy day with a ghyll scramble (climbing up a rocky river), followed by a scenic lunch and an afternoon on the lake on a giant paddleboard. We had pizza and chips for tea before heading out orienteering. I know we will sleep well tonight!! See you all tomorrow with our smelly washing!
Good evening from our first evening at Tower Wood!! We all arrived safe and well. We first had our lunch followed by getting straight into activities - todays was raft building! We built our own rafts to varying success...some ended up getting very wet!! We then had a jump in the lake followed by a lovely tea of Pasta bolognaise, garlic bread, salad and a pudding of chocolate cheesecake! Yum! We certainly had built up an appetite. This evenings activity was Head Hunters, which let us burn off some energy before having a shower and getting into our PJ's. We are currently chilling in the common room with a hot chocolate and a biscuit getting ready to head to bed soon ready for a day full of activities tomorrow. Night!!
OUR LAST DAY! We had an incredible day. We tackled the high and low ropes and really pushed ourselves. The children have been AMAZING and thoroughly enjoyed themselves meeting lots of personal bests!
Remembrance day service 2021
To all our amazing families who have worked so hard during this half term, our school staff have organised a little message to you all to let you know how much we are missing you and thinking about you. This little routine was put together in each of the areas in school and the dance took place on the school playground. We hope that you have lots of fun watching this video and you are able to identify your teachers and teaching assistants in a context that you don't normally see them in. This has been done especially for the entertainment of our children and their families and to help uplift your spirits during lockdown. This dance routine was the idea of Mrs Spence, one of our amazing teaching assistants. With the help of Mr Jon Hardman, one of or school governors, who helped video it and Miss Emma Barnes, our Computing Lead, who pulled it all together, the video was brilliantly produced. We hope you enjoy it. Have a wonderful half term and remember- no working-just having fun with your families.
Christmas Nativity Productions
On Monday, both our KS1 and KS2 children performed in their Christmas Productions. A huge well done to everyone - they were both fantastic !
Both performances were filmed, and the links to the videos will be emailed to parents very soon. (if you haven't paid for a link - get in touch ASAP!)
Jon Hardman, one of our school governors, also took some photos throughout the performances - and these can be seen on the links below.
You are free to download pictures of your child, but, just like if you were attending the nativity in person, please ensure they are for your own personal use.
KS1 Nativity Photographs can be found HERE: KS1 Nativity
KS2 Christmas Service Photographs can be found HERE: KS2 Christmas
We hope you enjoy the photos !
Our new classroom was craned into school on Tuesday. It caused great excitement and was a bit scary to watch it dangling over the top of the school. Here are some fabulous pictures taken by our brilliant governor photographer.
A message from Mrs Eccles, Miss Barnes and the staff -
Hi there boys and girls, parents and carers
We have been busy setting up a little Holy Family Values trail in the church grounds. We are hoping that this will get you out in the fresh air, give you some daily exercise and remind you that you are still a part of our school family and we are thinking of you daily. In the Holy Family Church grounds, we have left some decorated pebbles and ornaments for you to find. (See photographs of some below). We wondered if you would like to add to our trail? If so, please decorate a pebble at home or make a decoration suitable for a church yard and surviving the weather, and let's see how many we can get. It would be a great way of letting your friends know you are thinking of them. We know how creative you can all be…. We do hope that you can focus on our school values, which continue to serve us well in these difficult times. Just in case you are unsure of these…. here is the list…
Loving … Compassionate … Grateful … Generous … Curious … Active … Faith filled … Hopeful …
Truthful … Attentive … learned … and finally … wise.